Dentist Frederick, MD - Suzanne Boyle DMD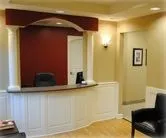 Thank you for visiting Suzanne Boyle DMD, your experienced dentist in Frederick. We take pride in providing state-of-the-art dental care in a friendly, relaxed environment. We are experienced professionals who truly listen to your concerns and work with you to achieve and maintain a beautiful, healthy smile!
Serving patients in Frederick is the foundation of our practice. By staying abreast of the latest dental technologies and procedures, Dr. Boyle can provide the most advanced, personalized dental care for you and your family. You'll feel at ease with our friendly staff, caring Frederick dentist and comfortable office setting.
This website has been specifically designed to familiarize you with our staff and office procedures here at Suzanne Boyle DMD. Check out our complete list of services , such as general dentistry , teeth whitening , crowns , preventive care or periodontal exams . Or, browse our educational patient library, find directions to our Frederick office or even request an appointment .
New patients are always welcome. We look forward to meeting you and being your lifelong partner in dental health.