Posts for tag: retainer
By Suzanne Boyle DMD
September 30, 2018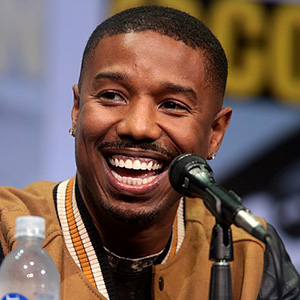 Some moviegoers have been known to crunch popcorn, bite their fingers or grab their neighbor's hands during the intense scenes of a thriller. But for one fan, the on-screen action in the new superhero film Black Panther led to a different reaction.
Sophia Robb, an 18-year-old Californian, had to make an emergency visit to the orthodontic office because she snapped the steel wire on her retainer while watching a battle scene featuring her Hollywood crush, Michael B. Jordan. Her jaw-clenching mishap went viral and even prompted an unexpected reply from the actor himself!
Meanwhile, Sophia got her retainer fixed pronto—which was exactly the right thing to do. The retention phase is a very important part of orthodontic treatment: If you don't wear a retainer, the beautiful new smile you're enjoying could become crooked again. That's because if the teeth are not held in their new positions, they will naturally begin to drift back into their former locations—and you may have to start treatment all over again…
While it's much more common to lose a removable retainer than to damage one, it is possible for even sturdy retainers to wear out or break. This includes traditional plastic-and-wire types (also called Hawley retainers), clear plastic retainers that are molded to fit your teeth (sometimes called Essix retainers), and bonded retainers: the kind that consists of a wire that's permanently attached to the back side of your teeth. So whichever kind you use, do what Sophia did if you feel that anything is amiss—have it looked at right away!
When Black Panther co-star Michael B. Jordan heard about the retainer mishap, he sent a message to the teen: "Since I feel partly responsible for breaking your retainers let me know if I can replace them." His young fan was grateful for the offer—but even more thrilled to have a celebrity twitter follower.
If you have questions about orthodontic retainers, please contact our office or schedule a consultation. You can read more in the Dear Doctor magazine articles "The Importance of Orthodontic Retainers" and "Bonded Retainers."
By Suzanne Boyle DMD
September 20, 2018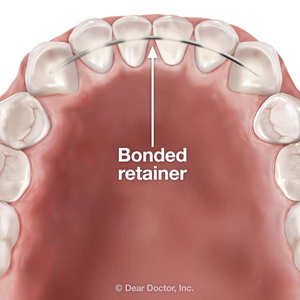 If you want to keep that new smile after orthodontic treatment, you'll need to wear a retainer for awhile. Teeth have a tendency to "rebound" to their old positions and a retainer prevents that from happening.
Most people are familiar with the standard removable retainer. But there's another option: a bonded retainer. While performing the same function as a removable one, the bonded retainer differs in one important aspect—it's fixed in place and can't be removed except by a dentist. It's especially useful for certain bite repairs like the closure of the gap between the front teeth.
If you're thinking this retainer sounds a lot like the braces just removed, it's not. The main part of a bonded retainer is a thin metal wire that we bond with a dental composite material across the back of the affected teeth. While you can definitely feel it with your tongue it can't be seen by others, which is an advantage over many removable retainers.
The fixed nature of bonded retainers also creates a couple of advantages, especially for younger patients. There's no compliance issue as with removable retainers—the patient doesn't have the option of taking it out. That also means it can't be lost, a frequent and costly occurrence with the removable variety.
But a bonded retainer does have some drawbacks. For one, the wire and composite material make it more difficult to floss. There's also a possibility of breakage from high biting forces, which if that should occur must be immediately repaired to avoid the teeth rebounding. But while removable retainers have their downsides, it's much easier with them to keep the teeth clean of plaque—you simply take the appliance out to brush and floss.
With your dentist's help you can weigh the pros and cons of both types of retainers and decide which is best for you or your child. Whichever one you choose, wearing a retainer will help protect that hard-earned smile for years to come.
If you would like more information on protecting your bite after orthodontic treatment, please contact us or schedule an appointment for a consultation. You can also learn more about this topic by reading the Dear Doctor magazine article "Bonded Retainers: What are the Pros and Cons?"