Posts for tag: pediatric dentistry
By Suzanne Boyle DMD
May 18, 2019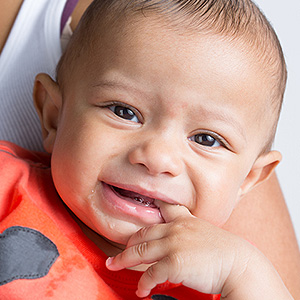 Although teething is a natural part of your baby's dental development, it can be quite uncomfortable for them—and upsetting to you. During teething, children can experience symptoms like pain, drooling or irritability.
Teething is the two or three-year process of intermittent episodes of the primary ("baby") teeth moving through the gums. These episodes are like storms that build up and then subside after a few days. Your aim as a parent is to help your baby get through the "stormiest" times with as little discomfort as possible. To that end you may have considered using over-the-counter products that temporarily numb irritated gums.
Some of those numbing products, however, contain a pain reliever called benzocaine. In recent years, this and similar ingredients have been found to increase the level of a protein called methemoglobin in the bloodstream. Too much methemoglobin can result in less oxygen delivered to body tissues, a condition known as methemoglobinemia.
This oxygen decrease can cause shortness of breath, fatigue or dizziness. In its severest form it could lead to seizures, coma or even death. Children and infants are at high risk for benzocaine-induced methemoglobinemia, which is why the U.S. Food and Drug Administration has banned marketing for benzocaine products as pain relievers for teething infants and children.
Fortunately, there are alternatives for helping your child weather teething episodes. A clean, chilled (not frozen) teething ring or pacifier, or a cold, wet washcloth can help numb gum pain. You can also massage their gums with a clean finger to help counteract the pressure exerted by an emerging tooth. Be sure, though, that you're not allowing anything in your child's mouth like lead-based paint that could be toxic. And under no circumstances should you use substances containing alcohol.
For severe pain, consult your physician about using a pain reliever like acetaminophen or ibuprofen, and the proper dosage for your child. With these tips you can help your child safely pass through a teething episode.
If you would like more information on helping your child cope with teething discomfort, please contact us or schedule an appointment for a consultation.
By Suzanne Boyle DMD
January 08, 2019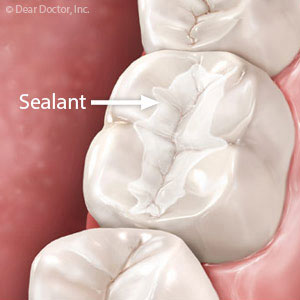 A baby's teeth begin coming in just a few months after birth—first one or two in the front, and then gradually the rest of them over the next couple of years. We often refer to these primary teeth as deciduous—just like trees of the same description that shed their leaves, a child's primary teeth will all be gone by around puberty.
It's easy to think of them as "minor league," while permanent teeth are the real superstars. But although they don't last long, primary teeth play a big role in a person's dental health well into their adult years.
Primary teeth serve two needs for a child: enabling them to eat, speak and smile in the present; but more importantly, helping to guide the developing permanent teeth to erupt properly in the future. Without them, permanent teeth can come in misaligned, affecting dental function and appearance and increasing future treatment costs.
That's why we consider protecting primary teeth from decay a necessity for the sake of future dental health. Decay poses a real threat for children, especially an aggressive form known as early childhood caries (ECC). ECC can quickly decimate primary teeth because of their thinner enamel.
There are ways you can help reduce the chances of ECC in your child's teeth. Don't allow them to drink throughout the day or to go to sleep at night with a bottle or "Sippy" cup filled with milk, formula, or even juice. These liquids can contain sugars and acids that erode enamel and accelerate decay. You should also avoid sharing eating utensils with a baby or even kissing them on the mouth to avoid the transfer of disease-causing bacteria.
And even before teeth appear, start cleaning their gums with a clean, wet cloth right after feeding. After teeth appear, begin brushing and flossing to reduce plaque, the main trigger for tooth decay. And you should also begin regular dental visits no later than their first birthday. Besides teeth cleanings and checkups for decay, your dentist has a number of measures like sealants or topical fluoride to protect at-risk teeth from disease.
Helping primary teeth survive to their full lifespan is an important goal in pediatric dentistry. It's the best strategy for having healthy permanent teeth and a bright dental health future.
If you would like more information on tooth decay in children, please contact us or schedule an appointment for a consultation. You can also learn more about this topic by reading the Dear Doctor magazine article "Do Babies Get Tooth Decay?"
By Suzanne Boyle DMD
December 29, 2018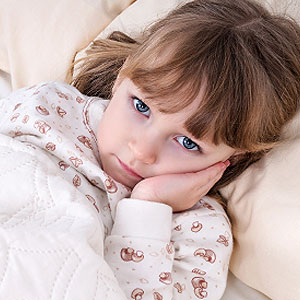 Dental disease doesn't discriminate by age. Although certain types of disease are more common in adults, children are just as susceptible, particularly to tooth decay.
Unfortunately, the early signs of disease in a child's teeth can be quite subtle—that's why you as a parent should keep alert for any signs of a problem. Here are 3 things you might notice that definitely need your dentist's attention.
Cavities. Tooth decay occurs when mouth acid erodes tooth enamel and forms holes or cavities. The infection can continue to grow and affect deeper parts of the tooth like the pulp and root canals, eventually endangering the tooth's survival. If you notice tiny brown spots on their teeth, this may indicate the presence of cavities—you should see your dentist as soon as possible. To account for what you don't see, have your child visit your dentist at least twice a year for cleanings and checkups.
Toothache. Tooth pain can range from a sensitive twinge of pain when eating or drinking hot or cold foods to a throbbing sharp pain. Whatever its form, a child's toothache might indicate advancing decay in which the infection has entered the tooth pulp and is attacking the nerves. If your child experiences any form of toothache, see your dentist the next day if possible. Even if the pain goes away, don't cancel the appointment—it's probable the infection is still there and growing.
Bleeding gums. Gums don't normally bleed during teeth brushing—the gums are much more resilient unless they've been weakened by periodontal (gum) disease (although over-aggressive brushing could also be a cause).  If you notice your child's gums bleeding after brushing, see your dentist as soon as possible—the sooner they receive treatment for any gum problems the less damage they'll experience, and the better chance of preserving any affected teeth.
If you would like more information on dental care for your child, please contact us or schedule an appointment for a consultation.