Posts for: September, 2018
By Suzanne Boyle DMD
September 20, 2018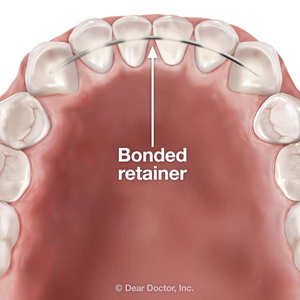 If you want to keep that new smile after orthodontic treatment, you'll need to wear a retainer for awhile. Teeth have a tendency to "rebound" to their old positions and a retainer prevents that from happening.
Most people are familiar with the standard removable retainer. But there's another option: a bonded retainer. While performing the same function as a removable one, the bonded retainer differs in one important aspect—it's fixed in place and can't be removed except by a dentist. It's especially useful for certain bite repairs like the closure of the gap between the front teeth.
If you're thinking this retainer sounds a lot like the braces just removed, it's not. The main part of a bonded retainer is a thin metal wire that we bond with a dental composite material across the back of the affected teeth. While you can definitely feel it with your tongue it can't be seen by others, which is an advantage over many removable retainers.
The fixed nature of bonded retainers also creates a couple of advantages, especially for younger patients. There's no compliance issue as with removable retainers—the patient doesn't have the option of taking it out. That also means it can't be lost, a frequent and costly occurrence with the removable variety.
But a bonded retainer does have some drawbacks. For one, the wire and composite material make it more difficult to floss. There's also a possibility of breakage from high biting forces, which if that should occur must be immediately repaired to avoid the teeth rebounding. But while removable retainers have their downsides, it's much easier with them to keep the teeth clean of plaque—you simply take the appliance out to brush and floss.
With your dentist's help you can weigh the pros and cons of both types of retainers and decide which is best for you or your child. Whichever one you choose, wearing a retainer will help protect that hard-earned smile for years to come.
If you would like more information on protecting your bite after orthodontic treatment, please contact us or schedule an appointment for a consultation. You can also learn more about this topic by reading the Dear Doctor magazine article "Bonded Retainers: What are the Pros and Cons?"
By Suzanne Boyle DMD
September 10, 2018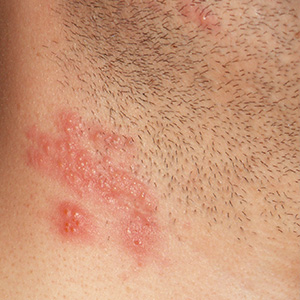 Shingles is a painful viral infection that could potentially recur in sufferers for years. It causes painful skin rashes, general nerve pain, fever and fatigue. In extreme cases, it can cause blindness if the eyes become infected. And because it's highly contagious, it could affect your dental treatment.
Formally known as herpes zoster, shingles is a recurrent form of chicken pox. If you contracted chicken pox in childhood, the shingles virus could lay dormant for several years. In fact, most people who contract shingles are over 50.
Because it acutely affects the nerves around the skin, the disease's most common symptom is a belted or striped rash pattern that often appears on one side of the body and frequently on the head, neck or face. While the severity of symptoms may vary among patients, shingles can be a significant health threat to certain people, especially pregnant women, cancer patients or individuals with compromised immune systems.
In its early stages, the shingles virus can easily pass from person to person, either by direct contact with the rash or by airborne secretions that others can inhale. Because it's highly contagious, even a routine teeth cleaning could potentially spread the virus to dental staff or other patients. Because of the significant health threat it potentially poses to some people, your dental provider may decline to treat you if you're showing symptoms of the disease.
To stay ahead of this, let your dentist know you're experiencing a shingles episode if you have an upcoming dental appointment, in which case you may need to reschedule. In the meantime, you should seek medical attention from your physician who may prescribe antiviral medication. Starting it within 3 days of a shingles outbreak can significantly reduce your pain and discomfort as well as its contagiousness.
And if you're over sixty or at risk for shingles, consider getting the shingles vaccine. This readily available vaccine has proven effective in preventing the disease and could help you avoid the pain and disruption this viral infection can bring to your life.
If you would like more information on dental treatment with shingles, please contact us or schedule an appointment for a consultation.